Spoiler alert: Yes it does. Plus, features of an effective team building exercise and some team building options in Seattle.

Your employees no doubt relish team building activities - at the very least it's a day out of the office, doing fun stuff with each other - but do team building activities actually work?

In particular, does team building improve productivity?
And what are the features of an effective team building exercise?
These are what we shall explore in this blog post.
Does team building improve efficiency and productivity?
The short answer is: Yes, a team building exercise DOES improve efficiency and productivity by…
Boosting morale, breaking barriers, and improving various skills (like quick thinking, willing collaboration, and effective communication).
Now let's break that down and explore the 10 ways that team building improves productivity.
Breaks barriers between team members

Offers a carrot, rather than a stick

Keeps remote work blues away

Builds morale

Strengthens workplace dynamics

Removes workplace toxicity from the equation

Encourages recognition and respect among team members

Develops skills

Makes teams nimble

Develops team roles
Breaks barriers between team members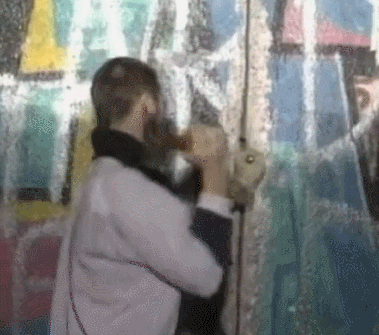 Gif via giphy.
Teams thrive on communication and teamwork. Team building events give participants a chance to break barriers among themselves, forging relationships that they can leverage in the work environment to collaborate with and help each other.
As everyone is starting from the same page (all team building participants know what the task is), and this isn't part of the office grind, it works wonders in creating working relationships.
Offers a carrot, rather than a stick
As it's not part of office work, a team building event offers participants a carrot (for example, winning an escape room challenge) rather than a stick (for example, the threat of salary cuts if targets aren't met) to put in their best effort and collaborate with each other.
This simple switch can work wonders at improving productivity.
Keeps remote work blues away
Image by Magnet.me on Unsplash.

This has become very important, in light of various companies shifting to work from home due to COVID-19.
As many of us have experienced, work from home has its own challenges. Maintaining work-life balance is one.
Missing the company of colleagues is another. Some of us may live alone, and attending the office and meeting with colleagues may be the only regular human interaction we have.
This is where team building can prove very beneficial, by giving employees a chance to socialize among themselves.
Builds morale
66% of employees would quit if they feel unappreciated, according to an article on Fobes. The risk of 2 out of every 3 employees quitting (66% is roughly 2/3rd) can more or less make the case for investment in building company and team morale, can't it?
Team building events help in this by making participants feel appreciated. If you're part of a team, you'll always have some sort of a role in the proceedings, giving you the opportunity to feel appreciated.
And this feeling of appreciation is a powerful incentive for team members to put in their 100% into work (in other words, improving productivity).
Strengthens workplace dynamics
Image by fahribaabdullah14 from Pixabay.

Generally speaking, employees are either more extroverted than introverted, or more introverted than extroverted.
Team building events give the more introverted people a chance to have open conversations with others on the team.
On the other hand, they are a chance for the extroverted team members to reach out to others and make them feel a part of the team.
Overall creating a work environment where all employees can let their talent shine.
Removes workplace toxicity from the equation
Workplaces, with the content pressure of deadlines and reviews, will always have a toxicity that leads to confrontation and rivalry among team members.
By changing the stakes, team building events give employees a chance to go through the workplace team dynamic, but in an environment that is cheerful instead of toxic.
This leads to confrontation being replaced by communication and rivalry being replaced by collaboration. Both of which are positive for team efficiency.
Encourages recognition and respect among team members
A good team building activity will encourage division of labor. In other words, it gives every participant a chance to dive in and put their skills to use.
This encourages the team to recognize and respect every single member's abilities.
And that in turn can lead to better allocation of responsibilities at work, which again means higher efficiency.
Develops skills
I bet you've heard this a million times before, but I'll repeat it all the same.
While there are all sorts of team building activities out there in Seattle, a well-chosen one will develop crucial workplace skills such as remaining cool under pressure, encouraging quick thinking and so on.
Makes teams nimble
Another feature of a well-chosen team building event is that it should throw participants into various types of situations forcing them to remain on their toes.
This is very important in making a team productive.
Develops team roles
Image by Smartworks Coworking on Unsplash.

Most team members are naturally suited for one role or another. The most important role is, of course, that of the team leader.
Team building activities are the ideal opportunity for these roles to be defined and understood, especially the one of the team leader.
Features of an effective team building exercise
It has to be more than just a meet and greet. It has to give participants an opportunity to build relationships among themselves.
It has to be exciting. Participants must feel excited about taking part. Throwing paper balls at each other or whiteboard lectures by self-appointed 'gurus' won't cut it.
It has to be a well-chosen activity that matches the team's temperament.
If you can choose an activity that requires various kinds of skills, that would make the exercise more effective.
Team building events in Seattle
As one of America's most innovative cities with a large number of startups and small businesses, apart from so many tech companies, there are multiple team building activities in Seattle for you to choose from, like:
Sailing at the Seattle Sailing Club

Teaming up for thrilling missions at Fox in a Box Seattle

Going on a scavenger hunt with Let's Roam, and

Making stuff at Seattle Makers
Improving productivity via team building at Fox in a Box escape rooms
What sets team building in an escape room apart? How will it better improve productivity and efficiency than other team building activities?
Here's the deal.
An escape room challenge involves you and your team being locked in a themed room for sixty minutes. You have to spot clues, solve puzzles, and accomplish tasks to find your way forward.
Your objective is to fulfill a mission (and escape the room) before time runs out.
For example, our Mission Bunker escape game requires you to take part in a military mission aimed at averting a nuclear bombing that could lead to a world war.
This is certainly something people will be excited about taking part in.
Our games are designed to encourage teamwork among participants, and to put various skills like observation, quick thinking, and clear communication to the test.
As the game progresses, team dynamics and team roles will naturally come to the fore.
And finally, the countdown aspect means that participants will have to remain calm under pressure.
Thus ticking all the boxes that go into improving productivity and building team spirit.
You can certainly look into hosting your next team building event in Seattle with us!
Finally, if you found this blog post useful, bookmark Seattle's best team building and special events blog to easily access all our future content!
Featured image by mohamed Hassan from Pixabay.
BLOGS